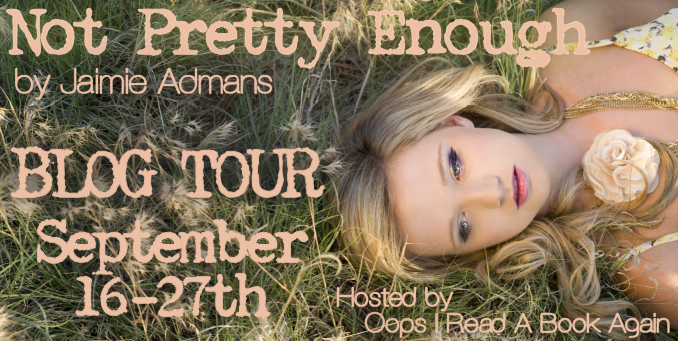 Blurb
"New Year's Resolutions:
1. Lloyd Layton will know I exist. He once said three whole words to me, so this is obviously progress. If I don't get a proper conversation out of him soon, then I'll take my top off and streak through the cafeteria, because nobody could fail to notice these boobs.
2. I will not get expelled for streaking through the cafeteria."
Those are the words that begin her mission.
Chessie is fourteen, not pretty enough, and very much in love. Lloyd Layton is hot, popular, and unaware of Chessie's existence.
Her goal is clear: to get Lloyd to love her as much as she loves him, and she has exactly one year to do it.
As Chessie's obsession with Lloyd reaches boiling point and she starts to spin a web of lies that spiral out of control, Lloyd turns out to be not quite the prince she thought he was. Can Chessie avoid the gathering storm before things go too far?
Not Pretty Enough is a contemporary young adult comedy suitable for ages thirteen and over.


Book Review
In Not Pretty Enough we meet 14-year-old Chessie. She has a huge crush on Lloyd Layton, one of the popular boys in school, and she is determined to get him to notice her. She sets out to do this in any way possible, and no stunt seems too ridiculous or over-the-top. Chessie is obsessive, impulsive, and naïve, but ultimately her heart is in the right place.
The plot of this book is something that I think a lot of girls might have been through and can likely relate to. Perhaps we weren't as crazy as Chessie, but we will definitely have been desperate for someone to notice us at one time or another! I felt for Chessie as she went from one misguided stunt to the next, all the while thinking that Lloyd was the best thing ever.
Not Pretty Enough is funny like I have come to expect Jaimie Admans' books to be, and it's also quite different. At times I cringed, and sometimes my adult self wondered what on earth Chessie was trying to achieve—but then I remembered that she is a 14-year-old girl and doing what seems sensible in her eyes!
I love the way this book ends. It wasn't necessarily what I expected, but it was lovely and a bit of a relief too! I'm looking forward to the next book, which will be out in 2014. I can't imagine what Chessie will get up to next, but I hope she has an easier ride than in this book!
(Free copy received in exchange for an honest review.)
About the Author

Jaimie is a 28-year-old English-sounding Welsh girl with an awkward-to-spell name. She lives in South Wales and enjoys writing, gardening, drinking tea and watching horror movies. She hates spiders and cheese & onion crisps. She has been writing for years but has never before plucked up the courage to tell people. Not Pretty Enough is her fourth novel and she hopes you enjoy it. There are plenty more on the way!